Elkton Torn Earlobe Repair

Over time, a pierced earlobe can become stretched if a person frequently wears large or heavy earrings. In addition to creating a long or wide opening, earrings may tear completely through the lobe. A torn earlobe may also result from trauma, such as having an earring pulled off or caught on clothing.
Torn earlobes can be repaired with a quick in-office procedure performed under local anesthesia.
Accidents happen, we can help!
Torn earlobe repair first involves "freshening" the edges of the torn lobe by removing a small amount of skin. Then, using fine sutures, the earlobe is meticulously repaired to reconstruct a normal, rounded earlobe that matches your natural ear shape.
You will be able to return home immediately after the procedure, with only a small bandage covering the stitches. The stitches will be removed after one to two weeks. When the earlobe has healed and the scar has softened, you may re-pierce the repaired earlobe. It takes about three months for the earlobe to fully heal.
Choose Cecil Dermatology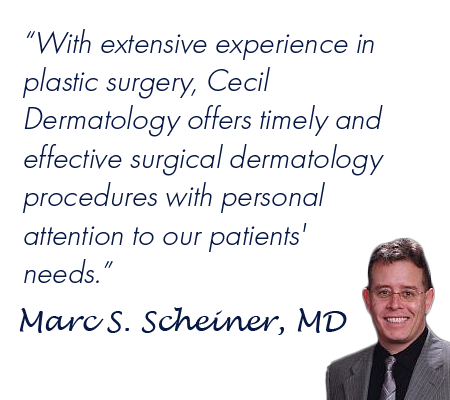 Is one of these procedures right for you?
Contact our office or schedule an appointment online to see how Dr. Scheiner can help.
About Cecil Dermatology
Learn more about our approach to patient care throughout Elkton, Maryland and Delaware
Our Team
Meet Dr. Marc Scheiner as well as our amazing staff and associates!